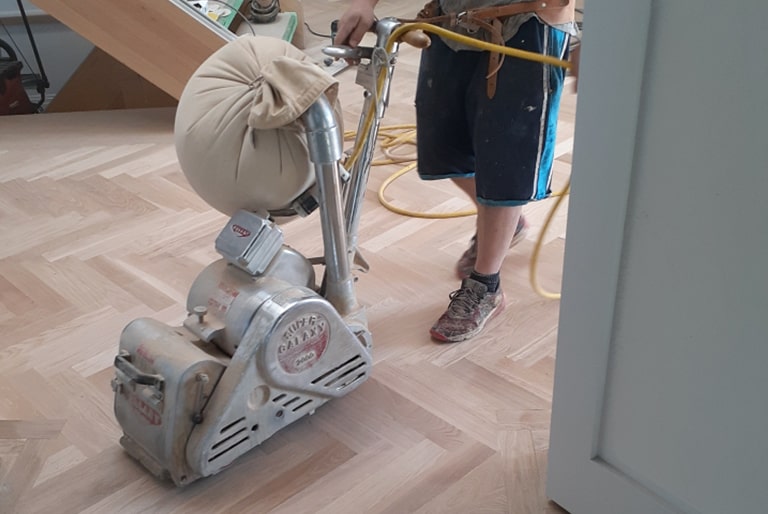 At Planchers St-Hubert, we are the experts for sanding your floor on the South Shore and in the Montreal area. We use modern equipment that allows us to perform flawless work every time, without dust. If your wood floor is starting to get old and it shamelessly exposes its nudity, but you are hesitant to replace it, know that another option is available to you: sanding. We can restore your floor to its original appearance in no time! With the right tools and the expertise essential to a flawless job, we will be able to give you a floor that looks like new for a fraction of the price of a new installation.
FOR DUST-FREE BLASTING, ADDITIONAL CHARGES WILL APPLY.
SANDING SPECIALISTS
The Planchers St-Hubert team gives a second life to your wooden floors, thus avoiding a new installation. Thanks to our equipment, we can also sand other wooden surfaces, such as stairs, railings and posts. When you call on our expertise, you are opting for contractors who are quick and professional when it comes to sanding your floor on the South Shore.
ECONOMICAL SOLUTION
Keeping your wooden floor by opting for a sanding service will save you money and allow you to keep all the original character of your home. Then, once your floor is sanded and free of imperfections, you can proceed with staining and varnishing to protect it and give it all its luster. You can then enjoy an impeccable floor!
PASSIONATE ABOUT OUR JOB
We have been working in the floor sanding business in Saint-Hubert since 1976. Our team, accredited by the RBQ is very meticulous and makes sure to offer you beautiful floors every time. We also offer a dust-free floor sanding service, a technology that has revolutionized our profession!
BLOG ARTICLES
No Posts Found