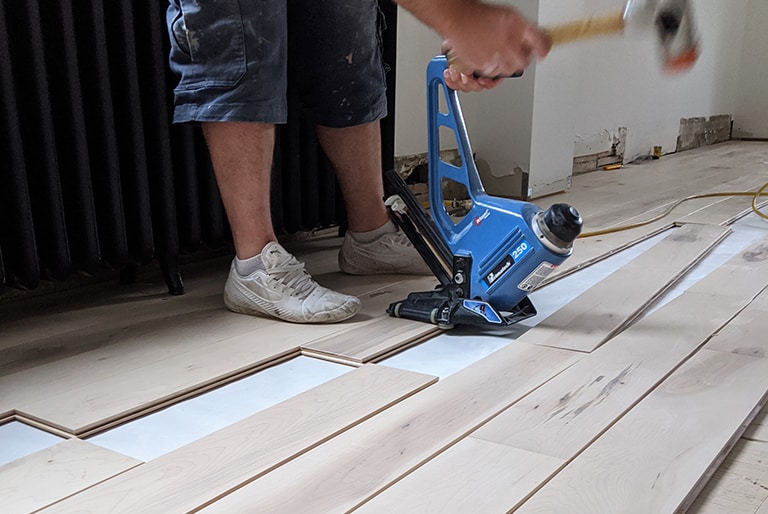 EXPERIENCED FLOOR INSTALLER
Planchers St-Hubert is your ideal floor installer! We offer all services related to the installation or renovation of your wood floors. You always benefit from excellent service at all stages of the sale, since our priority is to satisfy you completely. We hold a RBQ licence to offer you a professional floor laying service at a very competitive price.
PLAN YOUR PROJECT INTELLIGENTLY!
TYPE OF RESIDENCE
The choice of floor and the type of installation vary greatly depending on the type of residence you live in. The installation of hardwood flooring will vary depending on the type of subfloor in a single-family home, while certain soundproofing rules will need to be followed if it is installed in a condominium. The engineered wood flooring will be preferred in a condo or basement.

FURNISHING AND DECORATION
Your decor will influence the effect created by your new hardwood floor. Wood elements, for example, or the amount of furniture in the room, will affect the choice of color, essence, grade, finish, width and the orientation of the hardwood floor boards that you will choose.
ROOMS TO COVER
Make a sketch of the rooms you want to cover with a wood floor and note their area, the presence of stairs, wardrobes and any obstacles that would require wood cutouts. Check the type of subfloor and the direction of the joists. Consider that for a room in the basement, engineered wood, laminate or floating vinyl flooring will be the most appropriate.

NUMBER OF PEOPLE LIVING IN THE RESIDENCE
Obviously, the more people there are who live under the same roof, the more there are trips: a durable floor is therefore essential. If you have young children or pets, the risk of scratches and marks can be reduced by choosing an essence with a matte and hard finish.
TO EACH ROOM ITS FLOORING
Depending on the room in the house, there are different types of flooring and different ways to install them. Solid wood, engineered wood or engineered wood without nails or glue are all options to consider. Refer to one of our advisors to find out more.

CHOOSING YOUR FLOOR INSTALLER
Buying a hardwood floor is a considerable investment, which is why you want to entrust its installation to real specialists. You will thus ensure guaranteed work and keep the manufacturer's warranty intact. You can also do the installation of your floor yourself, depending on your knowledge and the tools you have, but to guarantee a quality result, nothing beats a professional floor installer.

SERVICES OFFERED BY YOUR RETAILER
● What inventory of products and accessories does your retailer have?
● How is the delivery made, and in what time frame?
● Is the installation service offered?
● Does the retailer offer a manufacturer's guide and maintenance products?
● Is he able to inform you about his warranty program and that of the manufacturer?

EXPERIENCE ET REPUTATION OF THE RETAILER
● How many years has your retailer been in business?
● Is this an authorized retailer for the brand you are looking for?
● Was it recommended by someone?
● Is he able to provide you with references for his installation work?
● Is the estimate requested well detailed and precise?
● Is he able to explain to you the technical elements of the installation of a hardwood floor?
BLOG ARTICLES
Choosing flooring for your home or business is certainly not a decision that should be taken lightly.
Are you looking to install a hardwood floor on your property or would you like to have your existing floor sanded to restore its original lustre? Varnishing your hardwood...
At Planchers St-Hubert, our outstanding reputation is based primarily on the excellence of our services and the quality of our products. Do you want to get great hardwood flooring?